About Company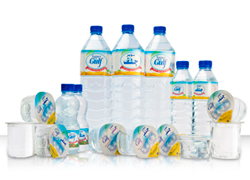 Gulf Pure Water Company was established in 1991 in the desert area of Umm Al Quwain and its first manufacturing facility was opened in Old Sanaya, King Faisal Road, UAQ.
Super Gulf Company has started its second production facility, which was opened in 1998 in Abu Dhabi to meet our customers requirement in the emirate of Abu Dhabi. Gulf Pure Water Company (Super Gulf) is also certified by ISO 9001 - 2008, and HACCP to keep its standards.
Manufacturing
Gulf Pure Water Company is one of the biggest company in bottled water manufacturing in UAE.
Our products are processed and packaged by using a fully automated and modern manufacturing facility utilizing innovative processing technologies. Water passes through a multi stages of filteration including R.O.System and there after re-mineralizing with FDA approved minerals to enhance the taste.
Quality and Safety Policy
Gulf Pure Water Company, Super Gulf is committed to serve people by providing the quality drinking water and there by contributing towards better health for the residents of this country.
Super Gulf Management and Staffs are firmly committed to implement the methods of personal hygine, periodic house keeping and careful product handling that guarantees safety and quality of the drinking water at all the stages of production storage and delivery to customer safety and enhance the customer satisfaction.
Gulf Pure water Company management also committed to strict compliance with the standards set by GSO and Abu Dhabi, Dubai, Sharjah, Fujairah, Ras Al Khaimah, Umm Al Quwain food control authorities.
Gulf Pure Water Company is a fully certified and accredited manufacturing operation in adherence to ISO 9001 - 2008 and HACCP.
Distribution
Super Gulf Company is basically an UAE based company and we are distributing the products all the emirates of UAE. Also we are exporting to the neighboring countries like Oman, Saudi Arabia, Bahrain & Kuwait etc.