Our Services
Customer Service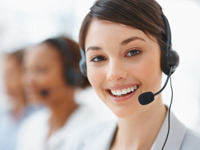 We give high priority to our customer requirements. We ensure that our customers receive the care and attention they deserve.
The company has set up four call centers in Abu Dhabi, Al Ain, Dubai and Umm Al Quwain that serves customers six days in a week. Also customers can contact directly to the sales executives and sales san through the company provided mobile Numbers. For all orders, queries you can contact the following number.
Abu Dhabi
Phone : +971 2 5501001 (All Super Gulf customers)
Phone : +971 2 5500040 (All Family customers in Abu Dhabi)
Mobile : +971 50 4978971 (Branch Manager)
E-Mail : gulfwtr@emirates.net.ae
Dubai
Phone : +971 4 2587741
Al Ain
Phone : +971 3 7212949
Mobile : +971 50 5291794 (Branch Manager)
Umm Al Quwain, Sharjah, Ajman, Fujairah & RAK
Phone : +971 6 7665511
Mobile : +971 50 7568461 (Sales Manager)
Mobile : +971 50 6315877 (General Manager)
Mobile : +971 50 1627203 (Sales Executive)
Mobile : +971 50 1627201 (Sales Executive)
Mobile : +971 50 3095527 (Sales Executive)
E-Mail : superglf@emirates.net.ae
Delivery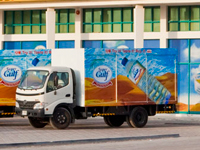 Super Gulf offers free delivery to all its valued customers.
"Customer Satisfaction is the Moto of Super Gulf" You are just one phone call away from enjoying our drinking water. Super Gulf offer high quality of customer service in all sense.
In order to give trouble free delivery. We have established a route planning system. All our Customers are assigned a route, a delivery day in every week. Which enables us to make sure all our customers are getting delivery on a fixed day in every week.
Coupon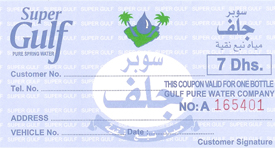 We have introduced a Coupon System for easy payment. Customers can pay one time and delivery can be done even in absence of customers.
Coolers and Water Pumps
At Super Gulf, We have different types of water dispensers as per customers choice & needs.