Manufacturing
Gulf Pure Water Company is one of the biggest company in bottled water Manufacturing in UAE. Our products are processed and packaged by using a fully automated and modern manufacturing facility...
Read..

Distribution
Super Gulf Company is basically an UAE based company and we are distributing the products all the emirates of UAE. Also we are exporting to the neighboring countries like Oman, Saudi Arabia, Bahrain & Kuwait etc.
Read..
Welcome to Super Gulf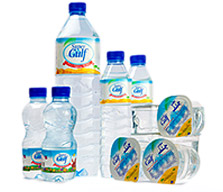 Gulf Pure Water Company was established in 1988 in Kaber, region of Umm Al Quwain and its first manufacturing facility was opened in Old Sanaya, King Faisal Road, UAQ. Super Gulf Company has started its second production facility, which was opened in 1998 in Abu Dhabi Industrial City, Mussaffah to meet our customers requirement in the emirate of Abu Dhabi. Gulf Pure Water Company (Super Gulf) is also certified by ISO 9001-2015, and HACCP to keep its standards.